Honda. Great Journey.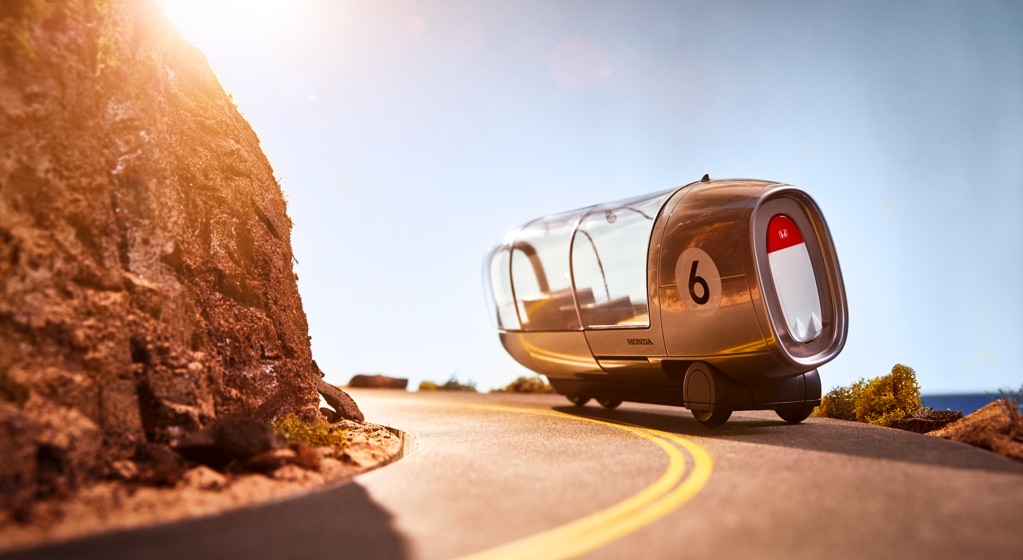 Concept / Creative Direction
Human beings are instinctively mobile. We can trace our roots to the continent of Africa, where, millions of years ago, our ancestors began what archaeologist Brian M. Fagan calls "The Great Journey." It was a migration north into Europe, across Asia, and on to North and South America. A journey of over 50,000 kilometers. No other creature on Earth has traveled so far, or adapted itself to the terrain so widely. The goal of our Great Journey project is to reimagine this journey, and propose how it could be made today using the latest technologies for human mobility. It was conceived as a journey of adventure that would also allow us to develop prototype vehicles for comfortable travel virtually anywhere on the planet. Vehicles that offer a superb view of the passing scenery, and that can drive autonomously day and night, providing not only transport, but also shelter, a place to sleep, even a hot bath and space for a family pet. With their expanded mobility and functionality, these vehicles are designed to enable us to follow our natural instincts and curiosity, exploring and rediscovering the ancient romance of travel in complete and total comfort.
移動は人間の本能だ。約400万年前、アフリカ大陸で人類が誕生し、そこからヨーロッパ、アジア、南北アメリカへと拡散、大移動していった。その距離はおよそ5万キロ。これほど広く地球上を移動した動物は、他にない。私たちは「グレート・ジャーニー」(考古学者ブライアン・M・フェイガンが名付ける)と呼ばれる、この人類大移動の歴史をたどってみようと考える。それも最も新しく、最も快適なモビリティで。このプロジェクトは、あらゆる場所への不自由ない移動を叶える、プロトタイプ開発でもある。そのモビリティは眠っていても自動運転で進む。風呂もペットも我慢しない。お気に入りの景色の中で、寝泊まりできる。モビリティの拡張が、移動したいという人間の本能(好奇心)を自由にしてくれるのだ。私たちは、前人未踏という人類のロマンを手に入れるだろう。何の無理をすることもなく。
Concept and Creative Direction: Morihiro Harano
Art Director: Yoshihiro Yagi
Copywriters: Haruko Tsutsui, Scott Lehman


Agency Producer: Misato Tachibana
Production Manager​: ​Kanae Harada
Producer: Yuta Harasawa


1) Vehicles Design
Design Director: Jon Marshall
Vehicle Conception and Design: Scott Barwick, Will Howe, Jacky Chung, Paul Wolfson, Satoshi Isono, Sasha Leong
Vehicle Model-making: Ogle Models

2) Vehicles Film
Film Director: Petr Krejčí
Film Creative Producer: Shelley Lee Davies
Editor: Nico Argast
Sound Recordist + Mixer + Engineer: Martin Merely
Stop Frame Animation: Chris Ullens, Alistair Concur
Set Build: Finn Magee, Charlie Humble-Thomas, Freddie Simmonds, Matteo Fogale, Laetitia de Allegri, Rami Santala

3) Web
Web Designers: Yusuke Kitani, Komei Sato, Atsushi Hashimoto

4) Book and Posters
Graphic Designers: Daisuke Hatakeyama, Taiji Kimura, Anna Saito, Naomi Okamura, Satoshi Kohno
Production copywriter: Takanori Ikemoto
Printing Director: Shinya Tamura

5) Event Movie
Directors: Masato Goto, Kazuhiro Yamamoto
Music:​ Satoshi Yoshitake

6) PR
PR Team: Kate Barnes, Dharine Surenthiran, Thalia Mills, Gillian Sturtevant


Creative Agency: Mori + Dentsu
Design Agency for Vehicles: Map Project Office
Production Company: TYO drive, Ogle Models, Kaibutsu, Creative Power Unit, PEN.
PR Agency: Camron
Client: Honda